Disyre Papillons is a small hobby kennel located in Fresno, California. While I am
relatively new to the show world, I am an enthusiastic fancier who has worked hard
to pay my dues and continue my education in the world of dogs every day. I feel my
hard work has paid off, and I'm extremely proud of the success of my small
breeding program and the show team I've been able to present in the conformation
ring in just a few years.
I was fortunate enough to meet Mike Phillip of Vala Papillons, and he entrusted me
with his beautiful English import "Boysie" to show. AM/CAN CH Lorah's Life Is
For Living became the first dog on which I finished a championship. He has also
become an influential sire in my breeding program, as the sire of
CH Summithill Livin' The Party Life, CH Disyre Livin' In Luxury
(sire of the 2012 Papillon Club of America's Winners Dog, CH Disyre Regal Ride),
and most recently CH Disyre Livin' On The Dark Side.
I have been fortunate to make many great friends in the breed who have helped me
along the way. Disyre Papillons would not be where it is today without their
counsel, generosity, and friendship. The future of Disyre Papillons looks bright, and
I look forward to the years to come!
Daisy. My first Papilon has been very special to me and
opened the world of Papillon's to me. She was lost
for two months and with the help of the girls at my vet's
office, we were able to get her back.
Lesson learned is to
never give up.. Miracles do happen.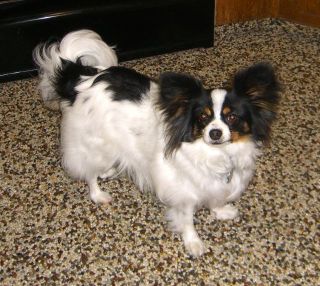 Quincey, My first show dog from Sally Howard I
showed to learned about showing. I had him for 3
months and 5 weekends of shows. He received one
point and 3 reserves with me.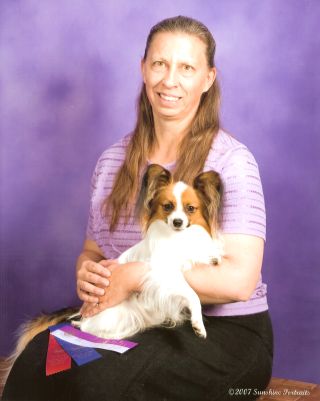 Sunshine portraits has copy rights to this picture.
They do wonderful work. Check out their web site at
www.sunshineportraits.com